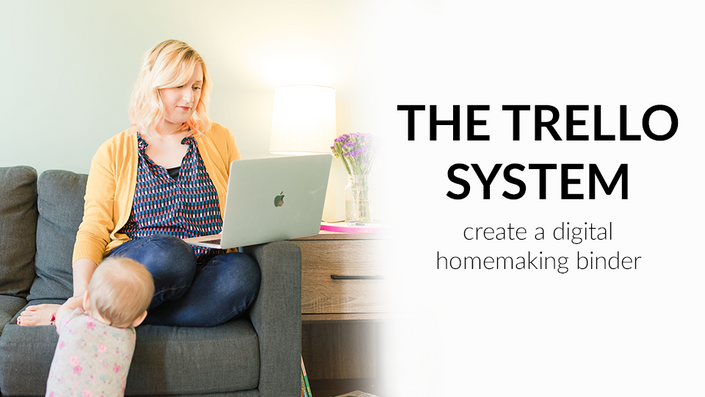 The Trello System
Create a Digital Homemaking Binder
You're a stay-at-home mom who has tried all the methods of organizing your home life but you have yet to find something that really helps you to stay organized and prepared.
You've tried post-it notes, white boards, binders filled with free printables and everything in between.
But nothing stuck and it just left your house feeling cluttered.
Either that or your toddler found it and colored all over it or ripped up the papers.
Imagine having a homemaking binder that your toddler couldn't get their sticky fingers on, that you couldn't lose, and that doesn't add more clutter into your home.

You need something that you can get to on-the-go, something that can't get ruined by spilled milk, and something that doesn't add to the chaos you already have in your home.

The Trello System will guide you in creating a digital homemaking binder in Trello. A digital "binder" means it will stay clear of milk spills, you won't lose pages or forget to print new ones out each week, and it doesn't add more "stuff" into your home.
No, it's not a magical unicorn...it's Trello!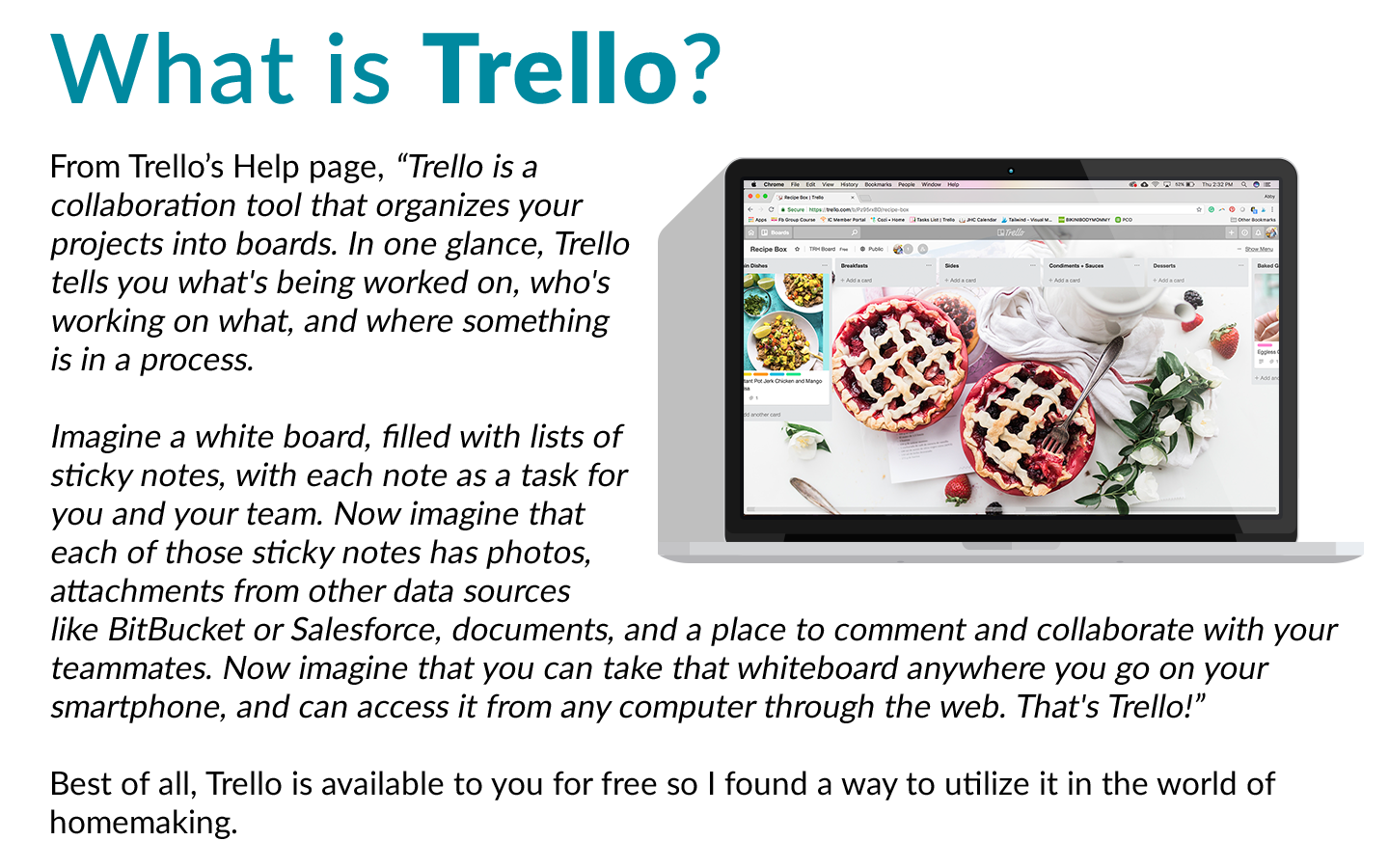 The Trello System shows your how to use Trello for personal use to keep track of things like your weekly menu plan, favorite recipes, Bible verses, birthday party plans, to do lists, and so much more!
The mini-course includes:

☞ a full training explaining how Trello works and walks you step by step through how to set up your profile and use boards.
☞ 10 boards for you to copy into your own profile and trainings on how to use each of the boards to create a digital homemaking binder.
Boards included in the mini-course:
‣ Recipe Box Board
‣ Menu Planning Board
‣ Bible Verse Reference Board
‣ Important Information Board
‣ Daily Routines Board
‣ Home Decorating + Projects Board
‣ Kid's Birthday Party Planning Board
‣ To Do List Board
‣ Ultimate Cleaning Board
‣ Budget Board
If Trello ends up not being the right system for you, there is a 30-day money back guarantee.
There is no one way to do anything. Some things work for some people and not for others. You do you, mama!
Even the most unorganized mama can get things together by using Trello. No life is too busy or too chaotic, Trello for the Rockstar Homemaker will guide you in in getting organized so you can spend more time playing with your kids and less time feeling overwhelmed.
Maybe you think that past homemaking binder methods never worked for you because your life was too all over the place. False. It just means that the previous methods were not the right fit for you!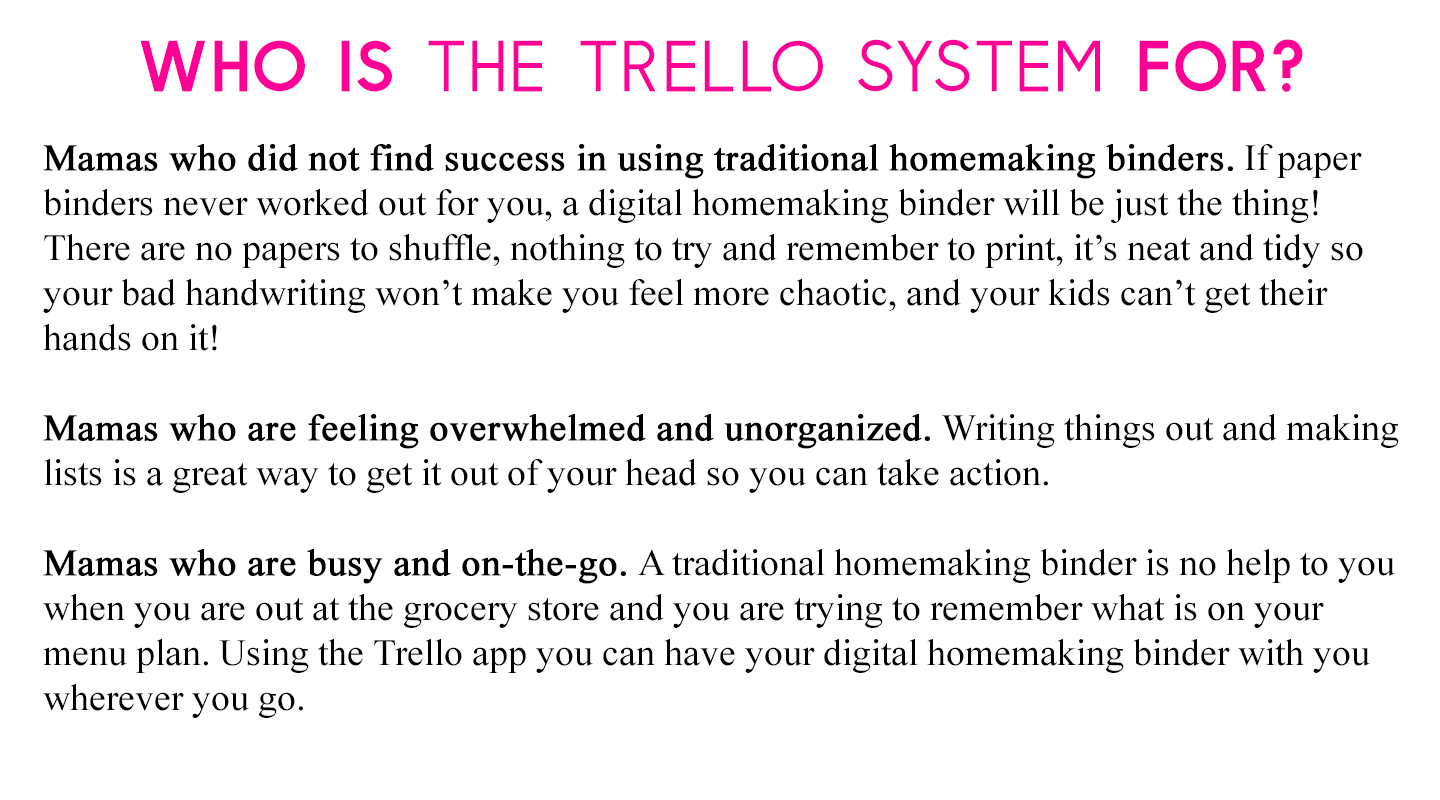 The Trello System will help you create the ultimate digital homemaking binder in Trello.
The mini-course includes a training on how to use Trello and ten boards (and trainings for each board) to help you create your digital homemaking binder.


How much does The Trello System cost? The cost is $19.
I've never used Trello before, will this help me learn how to use it? Yes! The mini-course comes with a full training on how to use Trello and each board comes with a training on how to use that specific board.
Where can I access Trello? On the web or within their app. So basically, anywhere!
I am not very good with technology, will this course be a good fit for me? Probably not. This is very heavy on technology since it is 100% online.
What topics are covered in this "digital binder?" The mini-course comes with 10 boards (think of them like sections in a binder). The boards include: a recipe box board, a menu planning board, a board to use as a Bible verse reference guide, a board to keep track of important information, a daily routines boards, a board to keep track of home projects and decorating ideas and shopping lists, a board to plan a birthday party, a to do list board, a board for all things cleaning, and a board to help you organize your budget.